MESO Digital Interiors was very happy to sponsor and participate in the NODE08 festival: For a few years now, the community of the vvvv multipurpose toolkit (http://vvvv.org) whose development started at MESO Digital Interiors has been growing and growing. Many of the vvvv users have been in contact virtually, but never really met. This needed to change.
NODE08 (http://node08.vvvv.org) was part of the Luminale light art festival (www.luminapolis.com, www.luminale.de), which took place at the same time in Frankfurt. More than just the first large-scale vvvv user meeting, NODE08 joins people working across the disciplines of applied and artistic media in a week-long event.
Besides the fixed programme, there have been projection and working space for all NODE08 Members. You could spontaneously show your work, patch, talk and create the exhibit you always wanted to realize. The "Patcher Kutcher" Nights provided the visitors the possibility to showcase their work, to meet and talk about tech, tunes and rock'n roll. See images above to get an impression.
NODE08 is realized trough the Organizationteam: David Brüll, Thomas Hitthaler, Patrick Raddatz, Hans Romanov (Public Relations), Sebastian Huber, Alexander Graf, Markus Berger (Technische Beratung), Stephan Enders (Technische Beratung).
NODE08 was possible with the help of: The vvvv group, MESO Digital Interiors, MESO Web Scapes, Satis & Fy AG. NODE08 was friendly supported by: MESO Web Scapes, Velvet Club Frankfurt, Diakonisches Werk Frankfurt, DIC, DIS, Mainova, SEB-Bank, Atelier Markgraph GmbH.
Over six days during the NODE08 – Forum for digital Arts, the vvvv developers as well as a great part of the most distinguished and most obsessed vvvv users imparted their methods and techniques in a string of workshops.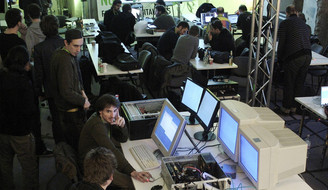 Along with the vvvv group (Sebastian Oschatz, Max Wolf, Joreg and Sebastian Gregor), a line of renowned speakers (Casey Reas, Herbert W. Franke, Paul Prudence, Verena Kuni, Regine Debatty, Mark Fornes & Skylar Tibbits and Berthold Scharrer) provided insights to their works and domains on April 8th 2008, moderated by Eno Henze.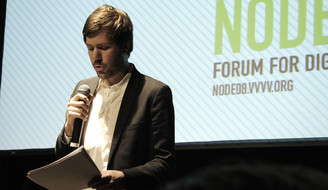 The NODE08 – Forum for Digital Arts Exhibitions with theverymany (Marc Fornes & Skylar Tibbits), Christian Riekoff and Andreas Schmelas, Benedikt Groß, Verena Friedrich, Martin Zeplichal, Eno Henze, Phillip Steinweber and Andreas Koller, Sebastian Oschatz and many more.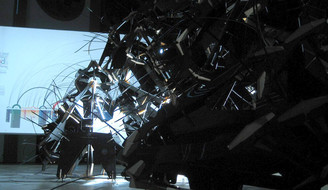 VVVVinissage
As it should be, we celebrate the grande finissage – on Saturday April 12th, at the Velvet Club. At the controls our vvvv users onoxo (Zagreb), u7agel (Hamburg), Elektromeier (Switzerland), Desaxismundi (France), Catweasel (London), VA (SanchTV-France, Nushitzu-Berlin), Live: Melchior Productions (Cadeza, Berlin), Gaiser (M-nus/Detroit, USA), B-Film (Tonfilm-Amsterdam). DJ: Alex Flitsch (Connaisseur Recordings Frankfurt), Sylvie Marks (Bpitch Control, HAL 9000, Frankfurt)